Kol Collection
Kol S. Naylor, Metalsmith and Beadsmith
Jewelers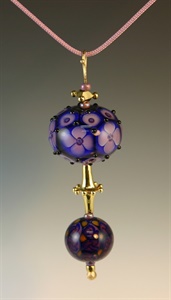 Gold and Lampwork Beads Pendant 101
14k Gold Handcrafted Granulated Beads, Lampwork Beads by K.Logan with 14K Gold stem.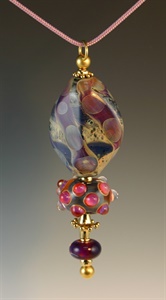 Gold and Lampwork Beads Pendant 102
14K Gold Granulated Beads, Lampwork Beads by N. Tobey with Gold-Filled Stem
Gold and Lampwork Bead Pendant 103
22K Floral Motif Stem with 14K Gold Beads, Flourite and Lampwork Bead by L. Fairbanks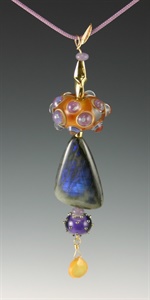 Gold and Gemstone Pendant 108
22K Gold Leaf Design Stem, 18K Gold Swirl Bead, Labradorite and Chalcedony Beads with Lampwork Beads by N.Tobey and K. Logan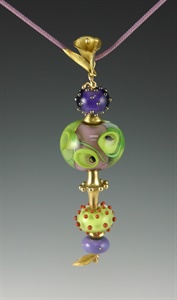 Gold and Lampwork Beads Pendant 104
22K Gold Calla Lily Stem with 18K Gold Granulated Beads and Lampwork Beads by P.Walton and K.Logan
The Kol Collections
Kol S. Naylor, Metalsmith
I have been designing and handfabricating metalwork beginning in the early 1980's putting my lifelong artistic talents to formal training with The Miami Jewellery Institute. From alloying metal to handforming each flower and petal, completing the final piece, my enjoyment of what I do creates a piece of One-of-a-Kind Jewelery. Combining color palettes of Gemstones, Gemstone Beads and Glasswork provided by some of the most world recognized artists has allowed me to incorporate my love of color throughout my Collections.
Enjoy my work and thank you for viewing. If there are any particular pieces you would like to see in person I can easily arrange to send them to you. Custom orders in any colorways are encourgaed.
Kol S. Naylor
401-447-7397
Events
October 1, 2017 - November 1, 2019

39 State Street, Bristol, RI

Hotpoint Emporium representing The Kol Collection!

February 20, 2018 - February 20, 2019

IMAGO Gallery and Foundation in Warren, RI

IMAGO GALLERY has invited me to become a Member of the Foundation!

December 9, 2017 - December 10, 2018

Art Providence/RISD Show Providence RI

Voted BEST OF SHOW by Attendees! Thank you all for this fabulous award!

December 7 - 9, 2018

Rhode Island Convention Center, Providence RI

Come join us again for your Holiday Shopping. Over 200 Artists!

October 27, 2018

HOTPOINT EMPORIUM 39 State St., Bristol, Rhode Island

A Bewitching Evening from 8pm-Midnight filled with fun and fascination!

June 1 - August 31, 2018

HOTPOINT EMPORIUM in Downtown Bristol, Rhode Island

Come Walkaround Downtown Bristol and enjoy the Summer activities!

June 22 - 24, 2018

Rosecliff Mansion Newport RI

Newport Flower Show summer 2018 was a hugh success!

December 8 - 10, 2017

Rhode Island Convention Center

Celebrate our first appearance at Art Providence (formally the RISD Holiday show)!
Galleries
55 Church St. Cambridge, Mass Harvard Square

Located in the heart of Harvard Square.

39 State Street, Bristol, RI

Representing over 30 Local Artists!

2679 E. Main Road, Portsmouth, RI

An artists guild for all mediums of art!

36 Market St., Warren, Rhode Island

A Not-for-Profit Supporting the Arts

5833 Ellsworth Ave Shadyside Pittsburgh, PA

An Amazing Glass Gallery showing my Pendants with Gemstones and Lampwork Beads
Content copyright by Kol S. Naylor.