Lynda Burch Watermedia
Lynda Burch
Southwest Contemporary Art
Albuquerque, NM
505 856-0195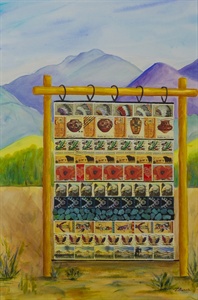 New Mexico Turquoise Rug
Stamp, Real Turquoise, and Acrylic Collage Painting
21"H x 14"W
SOLD Available as 20 x 16 print $39

Chile Maiden
Maps & Stamps with acrylic paint in a collage
22"H x 7"W
$400 Framed in Black 28 x 14", Giclee $98
Vases of History
Stamp and Map Collage with Acrylic
22"H x 10"W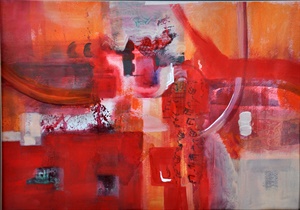 Passion
Acrylic Collage on Paper, Giclee Print Available
14"H x 20"W
Sold - Giclee Print - $159, Matted and Framed $275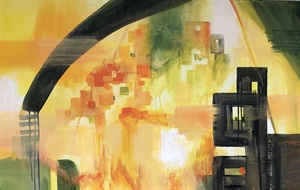 Building for the Future
Acrylic on 1 1/2" wrapped canvas, edges painted
24"H x 36"W x 1"D
Artist Statement
All my adult life I have admired luscious, juicy watercolors and vowed when I could retire, I would learn this art form. Never having studied art at all, I began in 1994, not waiting until retirement. I see watercolor's magic formula as 1 part water, 1 part color, and 1 part artist's intention. I love watching the colors mix together on the paper in unexpected patterns. The mystery of the medium offers excitement as you listen to the art unfold on it's own, letting go of your control and experiencing spontaneous expressions on the paper. Yes, I am passionate about watermedia and I hope my audience feels it also.
I like using color in a big vibrant way creating moods to set the tone of the work. Free, bold and strong are words often used to describe my art. I am constantly turned on by new challenges and love experimental methods using related water mediums such as acrylics, collage, inks and layering techniques.
I have studied intensively, both at home and abroad, with many of today's leading watercolorists. I am a Signature Member of the New Mexico Watercolor Society, the International Society of Experimental Artists, International Society of Acrylic Painters, a juried member of the Society of Layerists in Multi-Media and also a member of National Collage Society. I have been juried into many shows throughout the Southwest in the last few years.
A native of Texas, I chose to move to Albuquerque with my husband Jack in l981 and wouldn't live anywhere else. I am currently showing in Amapola Gallery in Old Town,Fisher Gallery, 1620 Central, both in Albuquerque, plus the Museum Gift Shop at the Albuquerque Museum.
Resume
Lynda C. Burch Resume
ISAP Signature Member Show, Paso Robles, Ca., Sept. 2011
Park Fine Art Int. Show Tour, China & Korea, Fall 2011
Texas & Neighbors Regional Show, April 2001, 2005, 2006, 2007, 2009, 2011, Irving,Tx
NMWS Fall Show, 1999, 2000-02, 2005, 2006, 2008-09, 2011, Albuquerque, NM
Society of Layerists in Multimedia Shows, 2003, 2006, 2011
International Society of Experimental Painters 19th Exhibit, Michigan, 2010
NMWS Spring Show, First Place and Honorable Mention, May, 2009
Pikes Peak Watercolor Society International Watermedia, Colo., 2009, 2005
NM State Fair Fine Arts,2010, 2009, 2008, 2006, 2005, 2003, 2002, 2001 Honorable Mention
Wyoming Watercolor 23rd National Exhibit, Honorable Mention, 2008
Bardean Miniature Arts Honorable Mention Mixed Media, April, 2008, 2009, 2010
Western Federation of Watercolor Societies 32nd Exhibit, Honorable Mention, 2007
International Society of Acrylic Painters Show, May 2008, 2007, San Luis Obispo, Ca.
International Society of Experimental Artists Annual Exhibit, Oct. 2004, July 2006
Miniature Arts Bardean, Third Place April 2004, 2006, 2005, 2003, 2002, 2001
Arizona Watercolor Assoc. Spring Show Presidents Award, May 2006, 2007, 2005, 2004
Western Colorado Watercolor National Show, March 2006, 2009, Grand Junction, Co.
Watercolor Wyoming XX Annual National Exhibit, October, 2005, Sheridan, Wyo.
National League of American Pen Women NM Exhibit, Sept. 2005, Socorro, NM, HM NMWS Signature Exhibition, August 2005, Albuquerque Museum, 2006 Socorro, NM
NM Watercolor Society Spring Show, 2001, 2003-04, Merit Award, 2005-06, 2009-10
NM Watercolor Society Fall Show, Oct. 2004, Third Place, 1999, 2000-02
First Frontier Collage Society Exhibit, Sept-Oct. 2006, August 2004, Austin, Texas
The 15th Annual Fine Arts Show, October 2003, Corrales, NM
Arizona Watercolor Association National Exhibition, September 2003, Phoenix, AZ.
Arizona Watercolor Assoc. Fall Show, November 2002 and 2003, Phoenix, AZ.
Masterworks of New Mexico April, 2000, 2002, 2004, Albuquerque, NM
New Mexico State Fair Hispanic Arts Show, September 2001, Honorable Mention,
Arizona Watercolor Association National Watercolor Exhibition 2000, Phoenix, AZ. and Arizona commission on the Arts Two-Year Traveling Exhibition
Events
September 1, 2018

My Studio, 2880 Brushwood St. NE

Call 856-0195 for appointment

November 21, 2019 - January 21, 2020

Popejoy Hall Donor Lounge Show

Popejoy Ticket Office, UNM

Open to public 9-5 Monday-Friday

March 6 - May 29, 2020

Movers and Shakers - Works by Artists Who Teach, Lead and Inspire

Gallery with a Cause - New Mexico Cancer Center, 4901 Lang NE

Reception March 6, 6-8:30 p.m. Walk & Talk, April 15, 6-7:30

September 11 - 12, 2021

Corrales Artist Studio Tour

My location is 324 Camino de la Tierra, Corrales

September 25 - 26, 2021

12 Studios featuring 36 artists

My studio, 2880 Brushwood St NE, will feature Mary Ellen Merrigan , jeweler; 10-5 daily

November 1 - 30, 2021

Amapola Gallery Featured Artist

Amapola Gallery, 205 Romero NW, Old Town Albuquerque

Artist Reception Nov. 7 1-4 p.m.
Galleries
Albuquerque Old Town

High Desert Art & Frame

12611 Montgomery NE

Tramway & Montgomery

The Range Gift Shop

Main Street, Bernalillo, NM

Handles Prints of My Stamp Art