Anne Moore Knapp
Artist and Teacher
Gig Harbor, Wa
253 225-3008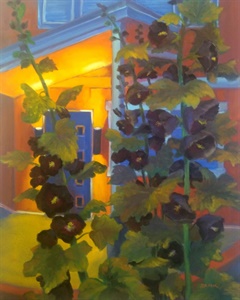 Midnight Hollyhocks
A dark view of my own black hollyhocks by street light- on custom textured gator board- headed for a big show
20"H x 16"W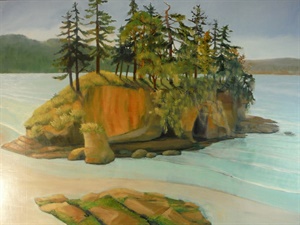 Rainforest Island
Oil "portrait"of small island off Salt Creek Campground near Pt Angeles. It was included in the PAWA "Nature's Gift of Water" Book.
18"H x 24"W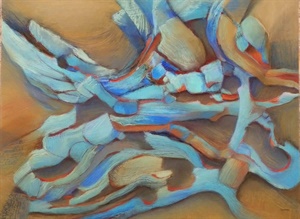 Deconstructing Driftwood
I took a note from my own class curriculum to create this piece on custom textured gatorboard. It's headed to a big show soon.
18"H x 24"W
Reflecting on Beauty
My daughter Kristina posed in summer kimono for a figure drawing event. Most of this piece was completed as part of a demo during the Summer Arts Festival. It's amazing it worked out so well given all the interruptions!(I do love to talk to people about Pastels and my work)
11"H x 14"W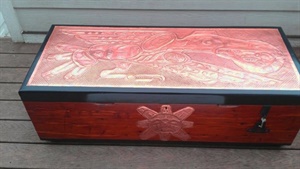 Raven Steals The Sun Cedar Chest
My favorite piece I've made for Chair Affair- Copper tooled top and frontpiece illustrating the NW Indian legend of how Raven stole back the sun for the people from a chief who wanted the sun only for himself. The key to the chest has a leather chief hat attached.
Artist Bio
Anne Moore Knapp has studied and worked in the field of art all her life. She received her classical art training from Art Center College of Design and El Camino College in Los Angeles, California. She completed her studies at Western Washington University in Bellingham, Washington earning a double BA in Art and Art Education. She still holds a valid provisional Art Specialist k-12 teacing certificate. She experimented with many art disciplines, but it was not until she tried pastels that she found the media that met her requirements for color, control and portability. She is an avid plein air participant, but also paints larger pieces in her studio in Gig Harbor, Wa. Her impressionist style with strong abstract shapes has developed as a direct result of her plein air work. Her newest studio pieces have the additional dimension of texture in the under layment are receiving acclaim. She now has added oil painting back into her studio thanks to the development of water-miscable paints- no solvants! She is a member of the Peninsula Art League, Northwest Pastel Society, Plein Air Washington, and International Association of Pastel Societies. She earned her Signature status from NW Pastel Society in 2014. She does artists residencies in the schools and teaches art classes/workshops in her new studio.
The artist may be contacted via email at annemknapp@gmail.com
Samk- plein air painter
Most works by Anne Moore Knapp are signed with SAMK, a throw back to her California art school days when she was known to all by her nickname Sam. She is very involved in the plein air painting movement, leads a plein air group through Peninsula Art League and is a member of Plein Air Washington. The artist feels that her work in plein air has advanced her ability to perceive color and value, to effectively portray shapes through the fall of light on the landscape, and to make quick informed choices in in color and composition. She highly recommends practice in plein air to any artist serious about the landscape. Her involvement in plein air has led her to champion the causes of keeping open spaces, and preserving spots of beauty through parks and trusts for the enjoyment of all.
Content copyright by Anne Moore Knapp.