Katherine Pippin Pauley
Whimsical Mixed Media
Springfield, IL
217-793-9820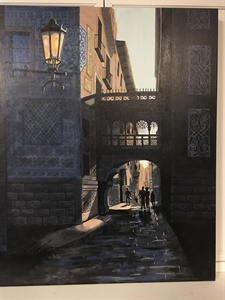 Afternoon in Barcelona
Acrylic painting from a photo that I took in Barcelona, Spain. This piece has been selected to be published in AcrylicWorks 6: Creative Energy in May 2019. It has also been accepted in the Illinois State Fair (2018).
24"H x 30"W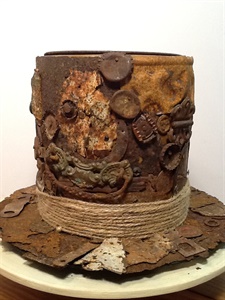 The State of the Union
Lincoln's top hat made from found rust with a twine headband. Named Best in Show for the 2014 Backyard Sculpture Competition at the Prairie Art Alliance and Best in Show for the Chatham Library Art Show 2015.
12"H x 12"W x 8"D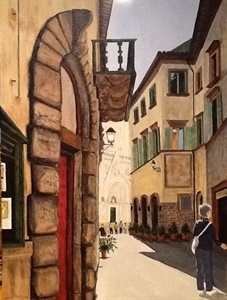 Cathedral View from the Via Duomo
The cathedral of Orvieto, Italy, as seen from the street leading to the piazza.
24"H x 18"W x 1"D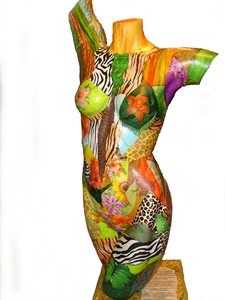 Bungle in the Jungle
This piece is based on Jethro Tull's "Bungle in the Jungle". The female torso expresses the female aspects of a jungle--lush, colorful, fragrant, full of life and mysterious. Collaged papers on manikin. Words to song are on the base.
48"H x 12"W x 12"D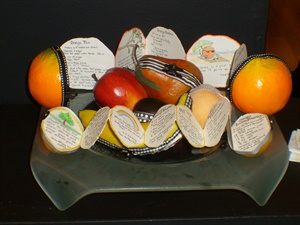 Not A Still Life
This is a set of 7 fruit books. Each piece of fruit opens accordian-style to reveal poems or sayings about the fruit and recipes which use the fruit. Pencil drawings illustrate the poems. I wrote an article on how to make these fruit books in PAGES, Vol. 2, published by Cloth, Paper, Scissors.
6"H x 12"W x 12"D
Artist Statement
Although I have been an artist all my life, I was unable to produce art for sale until just the past few years. As a teacher I used my creativity in the classroom with lesson plans and bulletin boards. I made costumes for Theatre Centre and Muni Opera. I painted sets and created props. Then I started creating fashionable coats for women made from men's suit coats, using ties, gloves, lace and jewelry. True Glitz was a successful small business that helped me nurture my creative side and my love of garage sales and flea markets. When my partner and I decided that five years of men's coats was enough, I started making Character Creations, small figures (6 to 10 inches) made from polymer clay. The figures evolved into scenes on large bases—shops, gardens, forests—all created using found and created objects.
Both True Glitz and Character Creations were successful creative outlets and both were exhibited at the annual Edwards Place Fine Art Fair. However, when I retired from teaching I wanted to pursue art full time. I was juried into the Prairie Art Alliance (mixed media) and I joined the artists at The Blue Door (a downtown artist/artisan shop). My art continues to evolve and my current passion is collage in all media. I sew collaged fabric jackets; I collage onto boxes, manikins, musical instruments, CDs and books, as well as canvases.
I create art that tells a story, that has different levels of meaning and that exhibits a sense of humor. I love to paint, write, read, garden, research genealogy, go to garage sales and flea markets. All of these interests find their way into my art. Taking garage sale and dumpster finds and making art has become my challenge and my joy.
Events
Ongoing

Featured Show

The David Strawn Gallery Jacksonville, Illinois

Ongoing

published by North Light Press

My mixed media piece, The Journey, is included in this book.

September 8 - 30, 2018

David Strawn Gallery Jacksonville, Illinois

August 9 - 19, 2018

Illinois State Fair Professional Art Exhibition

Illinois State Fairgrounds, Springfield, IL

Afternoon in Barcelona is exhibited

March 2 - May 5, 2018

Chatham Library Art Show 2018

Chatham, Illinois

I have one painting and two fabric wall hangings in this show.

April 6 - 8, 2018

Illinois Times Visitor Guide Cover Contest

Springfield Art Association

Abraham Lincoln art/ I have two pieces in the contest

March 10, 2018

Art of Music

Edwards Place Springfield, Illinois

Fund raiser for the Youth Symphony

August 25 - October 12, 2017

SAA Collective Hoogland Center for the Arts

Featured artist: my subcategory is literature.

July 14 - August 18, 2017

75 Years in the Gardens (Lincoln Memorial Gardens) Show

Hoogland Center for the Arts

Art giving tribute to Lincoln Memorial Gardens

June 29, 2017

Art Alley (Downtown Springfield, Incorporated)

Downtown alleyway

A pop-up show for just 4 hours from 5-9 p.m.

April 4 - 27, 2017

Illinois Times Visitor Guide Cover Art Gallery Show

SAA Collective

Lincoln Collage won 3rd place

April 1, 2017

Recycled Play Day

Illinois State Museum

I am the artist in residence creating art from recycled items.

January 5 - February 28, 2017

Art Show at Presbyterian Home

Springfield, IL

June 4 - July 31, 2016

Chatham Library 600 East Spruce Chatham IL

Using books and words in creating art; workshop to be offered.

January 15 - April 30, 2016

Abraham Lincoln Presidential Museum Springfield, IL

The State of the Union

October 17 - December 3, 2015

Prairie Art Alliance, 420 South Sixth St., Springfield, IL

Featured artist; my theme is 60s music

September 15, 2015

published by North Light Press

My mixed media piece, The Journey, is included in this book.

February 9 - April 4, 2015

Chatham Area Public Library Art Show

600 East Spruce, Chatham, IL

Awarded Best in Show for The State of the Union

October 18 - November 14, 2014

My Backyard Sculpture Exhibition

Prairie Art Alliance Springfield, Illinois

My piece was named Best in Show. See it in my 3-D gallery.

June 19, 2013

An Orvieto Experience

Corkscrew Wine Emporium Springfield, IL

My paintings of Orvieto, Italy will be shown and wine from Orvieto will be served. 4 to 7 pm

June 9, 2012

MacART Fest

Springfield, IL

May 29, 2012

I wrote a how-to article on creating my fruit books for this issue.
Galleries
| | |
| --- | --- |
| | Springfield, IL |
| | |
| The Wild Hare | Elkhart, Illinois |
| Once in a Blue Moon | Springfield, IL |
| | On line art gallery |
Content copyright by Katherine Pippin Pauley.