Fairhill Designs LLC
Patricia Thielman
Glass Beads and Jewelry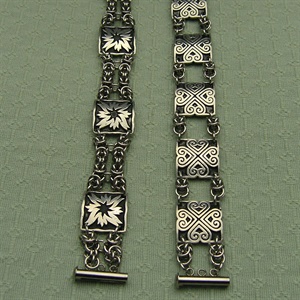 Pewter and Chain Maille Bracelets
Fine Pewter links joined with Stainless Steel chain maille with a tube clasp.
.75"H x .75"W x .15"D
Photo by Pat Thielman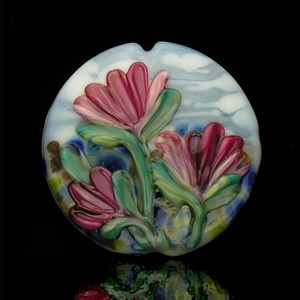 Landscape Floral Lentil Bead
A lush landscape in raised glass on a 1/25" slim lentil bead. Decorated both sides.
1.25"H x 1.25"W x .5"D
Photo by Pat Thielman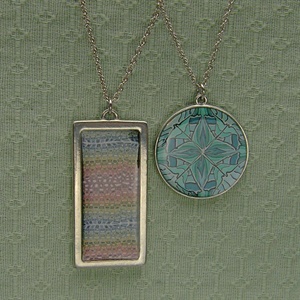 Pewter Pendants with Polymer Clay Inserts
Fine Pewter pendants with various Polymer Clay patterned inserts sealed with Resin. Many patterns and shapes available.
2"H x 1"W x .15"D
$35.00 to $45.00 pendant only, chain extra
Photo by Pat Thielman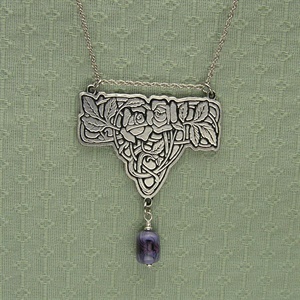 Pewter Necklace with Bead Drop
Chest piece of Fine Pewter with interchangeable glass bead drop on heavy Stainless Steel chain.
2.15"H x 2.75"W x .15"D
Photo by Pat Thielman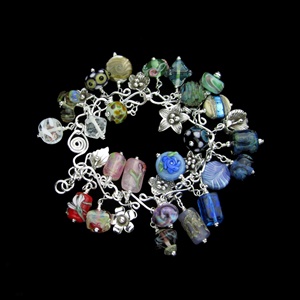 Sampler Bead Bracelet
A 16 gauge Sterling "S" link base bracelet is adorned with 24 beads in various colors and techniques. Arranged in rainbow hues with additional silver flower charms. Lovely 'music' when worn.
1"H x .5"W x .5"D
Photo by Pat Thielman
Artist Statement
Hello. I'm Pat Thielman from Buffalo, Minnesota. For 2017 I am working with FINE PEWTER, a tarnish-resistant LEAD FREE metal alloy. For each piece I make an original model which is then molded, cast, polished and color-enhanced. My Fine Pewter pieces may be combined with my personally made flameworked glass beads, polymer clay, resin, chain maille, wirework and/or semi-precious stones. I draw design inspiration from both ancient and modern sources and I combine forms freely. I am thrilled when a customer tells me they have received compliments wearing my jewelry designs.
My flameworked glass beads are made from 'soft' glass from Italy, China and the USA. Each bead goes from the flame to a digitally controlled kiln for annealing which adds strength and durability. Some beads may be etched for a matt finish. My intricately woven chain maille designs are made from Sterling, copper, bronze, gold-filled and/or stainless steel jump rings. All pieces are tumble-polished for a beautiful shine and a smooth-as-silk finish. Some pieces may be chemically 'antiqued' as well.
I participate in approximately fifteen juried art shows per year and I am a Self-Representing Artist (SRA-T90).
Events
| | |
| --- | --- |
| Ongoing | No events scheduled due to Covid-19 |
Content copyright by Fairhill Designs LLC.