GulfportArtStudio.com
Cheryll Grogan
Painting, Printing,Photography
6311 2nd Ave South
St. Petersburg, FL
7275040541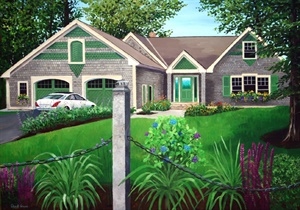 Coulumbes Maine home
36"H x 48"W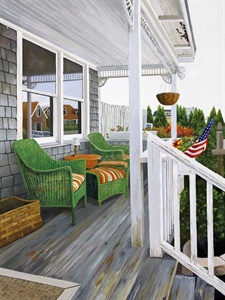 Red Rose Inn
A beautiful bed and breakfast which burned to the ground a few mths. ago :( .... Cape Cod Ma.
48"H x 36"W
ORIGINAL SOLD
Giclee reproductions available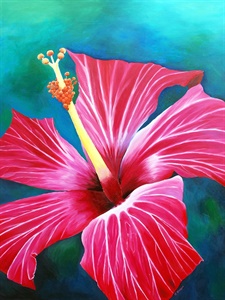 Hibiscus
oil on canvas of a Hibiscus I planted in yard in Gulfport, Fl
48"H x 36"W x 2"D
2,500.00
Giclees available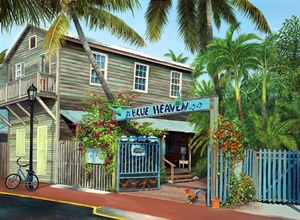 Blue Heaven
oil on canvas
prints available
30"H x 20"W x 2"D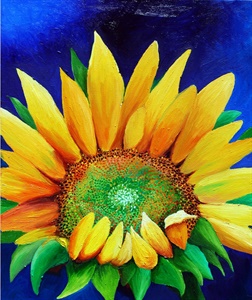 Sunflower
20"H x 18"W x 2"D
Artist Statement
I really enjoyed painting and drawing as a kid growing up in Mass. I pretty much majored in art through jr high and high school. I attended SMU in Dartmouth Ma and then joined the Army for 4 yrs in the 80s. It was a great experience and I lived in Europe for 2 yrs and really got to travel and take lots of pics and meet interesting people in between working.
After 4 yrs in the military I relocated to Tampa Fl and finished my BFA with a concentration in photography. I loved spending time in the darkroom. Being a veteran and broke college student in the late 80s I got hired by the post office while finishing my degree at the University of South Florida.
While working at the post office I started freelancing, painting murals,showing my photos in galleries and I started painting again. Then after testing the waters for a year I knew it was time to jump ship and head out on my own. Kinda scary after 20 years of steady employment with benefits.
I have been self employed for approximate 15 years now. I do art shows in Florida now and the southeast. I also paint murals and enjoy commissioned works as well. I paint architecture and cool car portraits.
I also print all of my own art and do sublimation for myself as well as other artists.
Events
January 8 - 9, 2022

Dunedin Fine Art Festival

Dunedin

January 21 - 23, 2022

Johns Pass Art and Seafood Festival

Johns Pass Madeira Beach

January 29 - 30, 2022

Venice Craft Festival

downtown Venice

February 12 - 13, 2022

Gulfport Fine Art Festival

Clymer Park GP

February 19 - 20, 2022

St. Pete Fine Art Festival

Straub Park St. Pete downtown

March 5 - 6, 2022

Palm Harbor Art and Craft Festival

Palm Harbor

March 12 - 13, 2022

Lakewood Ranch Fine Art Festival

Lakewood Ranch

March 19 - 20, 2022

Tarpon Springs Fine Art Festival

Tarpon Springs on the Bayou

March 26 - 27, 2022

Hyde Park Fine Art Festival

Hyde Park, Tampa

April 2 - 3, 2022

Sarasota Art and Craft Festival

5 points park Downtown sarasota

April 16 - 17, 2022

Brownwood Art and Craft Festival

The Villages

April 22 - 24, 2022

Tampa Art and Seafood Festival

downtown Tampa

May 7 - 8, 2022

Mayfair Art Festival

Lakeland
Galleries
| | |
| --- | --- |
| Domaines | Gulfport Florida |
| AAA Giclee Scott Wallace gallery | Ft. Meyers Florida |
| Paper Rock and Scissors | Dunedin Florida |