BJ Lloyd Fine Arts
Barbara Jean Lloyd
Painting, Mixed Media & Fine Art Photography
Santa Fe, NM
& Danbury, CT
860-309-8790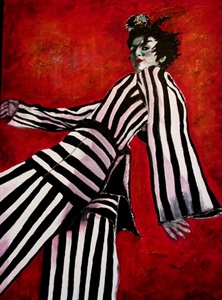 Glance From The Catwalk
Striking portrait of a saucy, striped runway glamazon in Acrylic paint in gallery-wrapped canvas shows her glancing at the front row fashionistas.
48"H x 36"W x 1.75"D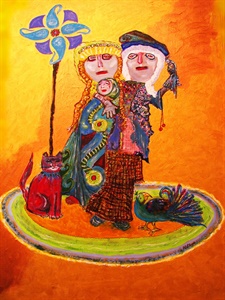 Chancay Family
This family portrait, framed in gold, brings to life Peru's Chancay textile dolls, in all their colorful glory.
40"H x 30"W x 1.3"D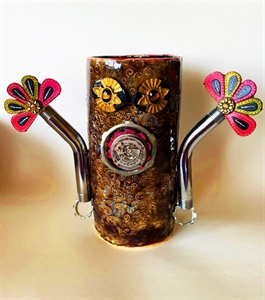 Boo! Vase
Slab-built Ceramic Vase decorated with recycle parts of shoes, plumbing components and more to create a whimsical creature shouting "Boo!".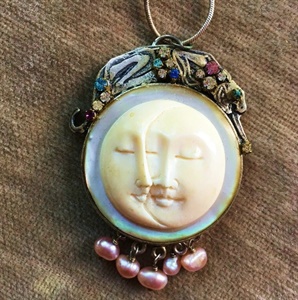 Sun/Moon Amore Pendant
Sun kisses moon at sunset in this recycled pendant featuring a restored silver Art Deco pin part and old earring components.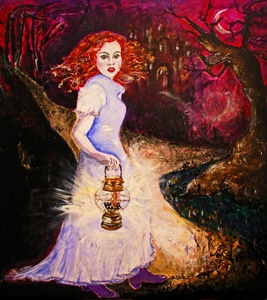 Into the Woods
Acrylic painting on gallery-wrapped canvas features young redhead on her way home through the woods when she is startled by falling branch, a footstep...or maybe it was just the wind.
40"H x 40"W x 1.5"D
B.J. Lloyd Fine Art Gallery
Barbara Jean Lloyd opened the new B.J. Lloyd Fine Art Gallery at 715 Canyon Road in Santa Fe, NM. On November 1, 2012, the gallery welcomed visitors to see Lloyd's art in an "up close & personal" way. The gallery features her paintings, assemblages and fine art photographs.
Click here to watch a gallery video:
http://www.youtube.com/watch?v=rdCVRgMZqgw
Santa Fe is the second largest art market in the United States, and Canyon Road is home to hundreds of extraordinary art galleries that draw many thousands of serious art buyers each year.
You're invited to visit B.J. Lloyd Fine Arts the next time you're in Santa Fe. And don't forget to visit this website often to check out new works!
B.J. Lloyd Fine Art Gallery
715 Canyon Road, Santa Fe, NM 87501
Gallery: 505-989-9330
Cell: 860-309-8790
www.BJLloyd.com
About The Artist
After graduating from Kean University of NJ with a Fine Arts degree, Barbara Jean Lloyd taught art for awhile, created the art for many album/CD covers, and opened her own public relations company. Now a full-time working artist, she creates in Acrylics, Oil, Mixed Media, Collage, Digital Fine Art/ Photography, Assemblages, and whatever else strikes her fancy.
Her work has been exhibited in NYC; CT; RI; Artoconecto/Art Basel, Miami, FL; Brooklyn, NY; Los Angeles, CA; OH; MA; Cambridgeshire, UK; and more. She recently completed a solo art show at CityCenter, Danbury, CT. Lloyd was the Featured Artist in the 2011 Island City Art Walk, Wilton Manors, FL. Her art is exhibited at the Gary Kim Fine Art Gallery in Santa Fe, NM, and La Junta Gallery in Bernalillo, NM.
Awards include First Place in ABQ Art Review's April 2012 Showdown: Protest Art, the Art Buzz Graphics & Acrylics Competitions, four "Special Recognition" Awards from Upstream People Gallery Juried Exhibitions, and a Body-of-Work Award from Mosaic Globe. Her work has been published in the Art Buzz Collections 2009 & 2010, Suspense Magazine, Hidden City Quarterly, CT Creative, The Bullet, Sonata, Status Hat Press, Art Hash and more.
Lloyd's work is available to art collectors, galleries, interior designers, stagers, art publishers, and for corporate & hospitality needs.
Artist Statement
"For me, art is all about telling stories, setting a mood, starting conversations. It's like a window that opens onto my subconscious, where I collect the bits and pieces I find there and allow them to tell a tale.
My art creates a distinct atmosphere - of mystery, whimsy, organic movement or unnatural stillness. Certain pieces may be light-hearted, others unnerving. But, as long as my art engages the viewer in a satisfying dialogue, I consider it a success."
WATCH THE ART GALLERY'S VIDEO - CLICK ON "EVENTS" ON MENU PAGE.
My Art Has Been Exhibited At:
Ceres Gallery, Chelsea, NYC
Artists Haven Gallery, Ft. Lauderdale, FL
Ovenden Contemporary Art, Ltd., Cambridgeshire, UK
Mac Worthington Contemporary Art Gallery, Columbus, Ohio
American Juried Art Salon Show
Museum of Computer Art, Brooklyn, NY
Second Stage Studio, Rhode Island
Procycle 2009, Rhode Island
Upstream People Gallery
Los Angeles Center for Digital Art, CA
Things Ltd. Gallery, Provincetown, MA
Art Kudos Juried Competitions
Park Slope Artwalk
360 Gallery, Middletown, CT
Logo Gallery, No. Miami Beach, FL
Gab Studio Gallery, Miami, FL
20 West Gallery, Danbury, CT
Solo Art Exhibition, City Hall Gallery, Danbury, CT
Wilton Manor Artwalks, 2011
Solo Art Show at City Center Gallery, Danbury, CT, Sept./Oct. 2011
La Junta Galleria, Bernalillo, NM, 2012
Gary Kim Fine Art Gallery, Santa Fe, NM, 2012
Events
Ongoing
July 12, 2013

B.J. Lloyd Fine Art - Grand Opening

Santa Fe, NM