TouchOfMontanaArt
Elton Kirtley
Painting & Wood
P.O. Box 38
Fromberg, MT
406-925-0977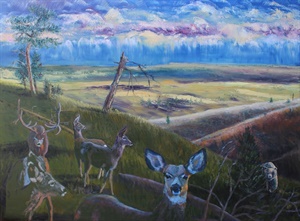 Deer Drama
Oil on linseeded and gessoed plywood in very nice refurbished frame. Scene in classic Crow Indian country where a greater variety of wildlife once flourished.
30"H x 40"W
$1300.00 for original.
Prints available.
FREE SHIPPING IN CONTINENTAL U.S.A.!!!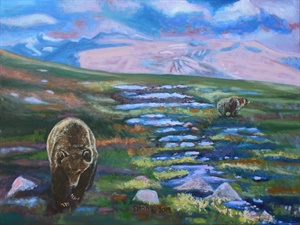 Bad Hunting Day
Oil on canvas on sealed plywood in very nice hand-painted refurbished frame. Scene from Froze To Death Plateau in the Beartooth Mountains, MT.
30"H x 40"W
$900.00 for original.
FREE SHIPPING IN CONTINENTAL U.S.A.!!!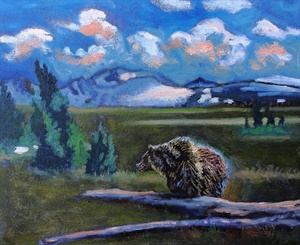 Thinking Spring
Oil on canvas on plywood in nice refurbished frame. Scene from Silver Run Plateau near Red Lodge, MT.
14"H x 17"W
$375.00 for original.
FREE SHIPPING IN CONTINENTAL U.S.A.!!!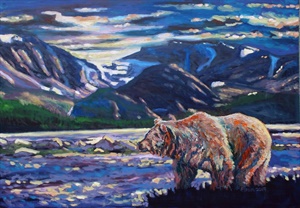 Montana Gold
Oil on linseeded plywood in nice refurbished frame. Scene based on view of Timberline Lake in the Beartooth Mountains, MT.
25"H x 36"W
$900.00 for original.
FREE SHIPPING IN CONTINENTAL U.S.A.!!!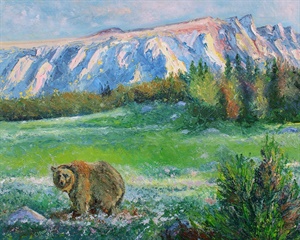 Big Bruiser Looking Small
Oil on canvas on sealed masonite in nice refurbished frame. From a scene in the Beartooth Mountains, MT.
14"H x 17"W
$360.00 for original.
FREE SHIPPING IN CONTINENTAL U.S.A.!!!
Elton C Kirtley Biography And Artist's Statement
First of all, please drop in at my home gallery 22 First Avenue in Fromberg, MT. Summer hours are 12-5 Wed. - Sat. (east at stoplight, right, one block on the right). I hope to have painted bison robes (with hair on) soon. There are some really good deals!!
I seek to express good, eternal things of God that I see in nature, family, in the Holy Bible, and in classics like John Bunyan's Pilgrim's Progress.
I express myself in visual art and in music. I play by note at times, especially with Bach's unaccompanied works for violin and cello. But improvising music is what I really like to do. The kids and I improvised music for many years together. The music that we made provides the basis for my impressionistic style now, as shapes, colors, and lines interact.
As a descendant of homesteaders on both sides of my family, I have a strong sense of personal responsibility and problem-solving. I also feel connected to the history of the developing West, from St. Joseph, Missouri, where I was born, to Anaconda, Montana, where I was raised. I also desire to pay my respects to the many Native Americans who unjustly died at the hands of deceived "Christians". In all of my paintings involving Native Americans (and also traditional Americans), I seek to show the common humanity of us all, and the light that God has put in each of us.
As a house painter for more than twenty-five years, I know paint, and how to work paint. I also taped and bedded sheet rock exclusively by hand, so a trowel or palette knife is almost as confortable in my hand as a brush. I also have a degree in art and music education from Western Montana College, which comes in handy for overall perspective.
I built a log cabin in northern Montana when our kids were very young, and Rachel and I coped without electriacity and running water for four years. I still like to see what I can make out of logs, especially picture frames.
I paint in oil on canvas, masonite, or plywood. I paint watercolors on masonite, or paper on masonite. Sometimes I start with watercolor, and after sealing the surface, I finish in oil.
I have three categories of painting: Non-progressive, Responder, and Stability.
My Non-progressive art is about developing real composition from scratch, using photos only for reference,and painting mostly in a representational and classic or illustrative style. These could have an historical theme, or be based entirely on imagination.
Responder Art for me is about responding to a photograph or photographs, or to a scene that I paint on-site. This work is predominantly impressionistic in style.
My use of the word Stability comes from a Hebrew word that is translated truth. Truth, over and above "facts", is what brings stability to a family, or, by extension, the world. My work in the Stability Art category involves Biblical scenes or teachings or constructive abstract concepts.
I do not feel bound to follow rules or fads of composition, color, material, or medium. So expect to find a broad range of expression.
recent news and/or changes
I have recently made a lot of changes, especially on pricing. Mostly lower -- a lot lower. But a few are higher.
Almost all of my paintings listed are available as prints --- even though not specifically noted with each entry.
Probably within a year I will have buffalo robes, cowhides ready to sell. They will be done using the egg-tan and smoking method. And yes, the tanning will be done by me only. (Unless I can talk Rachel into helping).
My gallery winter hours are 1-4 pm, Wednesday to Saturday. 22 First Avenue, Fromberg MT. Summer hours are 12-5 pm, Wed. to Sat. Watch for a sign, ART GALLERY, near the flashing red light on the highway going through Fromberg. Then, follow the arrows. Sometimes the gallery is open earlier and later than the official hours.
Directions are: east at Fromberg stoplight, one block to First Avenue, turn right, then one block on right. Sign in front yard.
During business hours I put an ART SALE sign near the flashing light on the highway going through Fromberg and on the corner of River Road and First Avenue.
GALLERY NOW OPEN. Remodeling is not completed, but workable.
Thanks, Elton
Events
January 1, 1900 - November 4, 2017

Touch Of Montana Art Gallery opening

22 First Avenue Fromberg, MT

I will probably be able to hang @ 50 pieces in two rooms in the house. Schedule to be determined.
Galleries
Red Lodge, MT

Paints hanging are:Fireside Chat, East Of East Rosebud, Mountain Water Bird,Starburst Yellow, Apple Blossoms, Definitely Ready, Sheep Pony, River Brunch

836 Sheridan Avenue Cody, Wyoming 82414

Paintings hanging are: After The Rain, East Of Froze To Death Plateau, Deer In The Lodgepoles, Where Eagles And Goats Soar
Content copyright by Elton Kirtley.