Anne Turner Beletic
Contemporary original paintings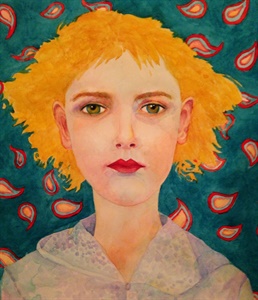 Cornflake girl
20"H x 16"W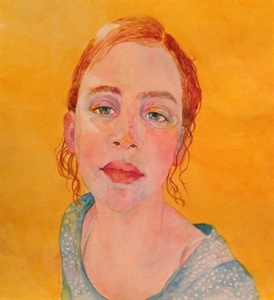 Seattle girl
I took one picture of this beautiful girl on a Ferris wheel in Seattle!
18"H x 22"W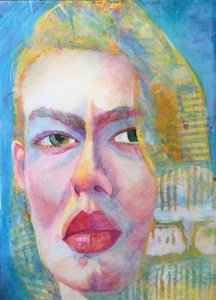 Bad day
Original watercolor on paper with collage and resin
40"H x 30"W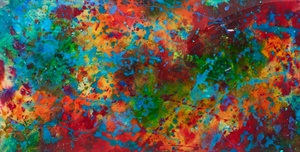 Turquoise random crosses
Original watercolor and other media mounted on birch
24"H x 48"W x 2"D
Lavender and blue 1
Watercolor on mulberry paper mounted on board and encased in resin
24"H x 24"W x 2"D
About the artist
Original contemporary color- saturated fine art ; imaginary portraits, landscapes and abstract painting. I am an self taught artist working intuitively with color.
My works are primarily on paper often mounted on board, including both watercolor ( contemporary figures and landscapes ) and abstract original fine art paintings using various mediums mounted on board with layers of color encased in resin.
My paintingshave been selected for over 20 juried shows and awards include "Best of Show". I just completed a solo exhibit at Abi Ferrin's in the West Village, Dallas and one of my red haired girls has been selected for publication in 'Splash 19 the Best of Watercolor" published by North Light Books publication date June 2018.
I am currently showing at Pettigrew's in the design district in Dallas , Texas , the Medicine Ranch on Pacific in Telluride , Colorado or can be contacted directly at artistannebeletic@gmail.com or just call me at 2149145408!
Group Exhibitions and Juried Competitions
Selected into 2015 Western Federation of Watercolor societies juried exhibit
Three-artist exhibition – Pettigrew Luxury Furnishings (Dallas, Texas) September 21-October 5, 2013
"Emerging Artist of Significance" in Telluride, Colorado (juried three-person show) (2001)
"Off the Wall" exhibit – The Gallery at Oldfield Davis (2009)
Juried selection Louisiana Watercolor Society New Orleans Group Exhibition (2012)
Juried selection Southwestern Watercolor Society Annual Exhibits (2011 ,2012, 2013)
Juried selection Northestern Watercolor Society 2013
Selected artist "Art for the Bridge" The Women's Museum, Dallas, Texas (2008)
Art+Advocacy selected artist (2010 & 2011)
D "Art Slam" at the FIG. (Dallas) (2009)
Turtle Creek Chorale Dallas Artist Benefit (The Gallery at Oldfield Davis) (2007)
American Airlines Center CityArtCal Exhibit (2012)
Terri Provencal Curated Show (12 artists) (2011)
Galleries
| | |
| --- | --- |
| GalleryLTO | 2901 Elm st Dallas, Texas |
| Pettigrew | 1805 Market Center Blvd. Dallas |
| Medicine Ranch | 615 W. Pacific Ave, Telluride Colorado |
Content copyright by Anne Beletic.