Anne Beletic
Fine art abstract/figurative paintings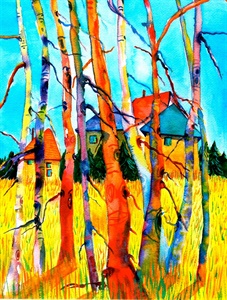 Field on fire
Original watercolor on paper
28"H x 22"W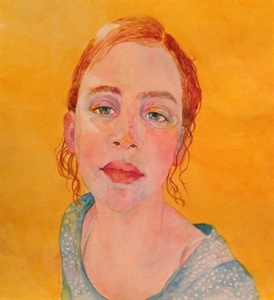 Seattle girl
I took one picture of this beautiful girl on a Ferris wheel in Seattle!
18"H x 22"W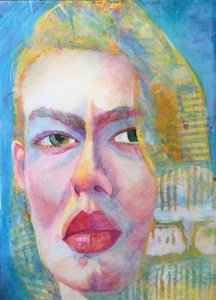 Bad day
Original watercolor on paper with collage and resin
40"H x 30"W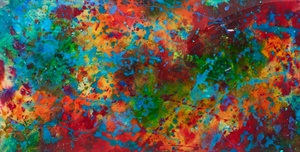 Turquoise random crosses
Original watercolor and other media mounted on birch
24"H x 48"W x 2"D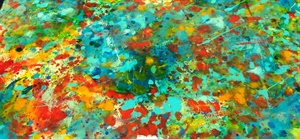 Field of sage and poppy
Original abstract fine art painting in layers of translucent watercolors and inks on rice paper mounted on board covered in resin
48"H x 72"W x 2"D
About the artist
Original contemporary color- saturated fine art ; imaginary portraits, landscapes and abstract paintings. Local Dallas artist.
I am a self taught working painter. I love color and the idea of entering a painting and seeing what comes out on the other side.
I primarily work in saturated vivid watercolor on paper, very different from most watercolor painters. My abstract paintings are usually large (some 5ft by 5ft) original paintings mounted on board with additional layers of resin and paint. I enjoy the physicality of painting big and the messiness of pouring the resin.
I have been recognized in both the art and corporate world with solo corporate exhibits (American Airlines) 50 juried exhibits (winning 'Best of Show") and am in collections across the U.S.
My quirky girls, trees and landscape (which are on paper to be framed or can be mounted on board and finished with encaustic) are all from my imagination.I know it's a good painting when my girls start to look back at me.
The best compliment I have ever received was that my paintings always start a conversation. I paint because it makes me happy.
I hope they make you happy too!
Group Exhibitions and Juried Competitions
2 solo shows at Abi Ferrin's in the West Village 2017
2015 Western Federation of Watercolor societies juried exhibit
Three-artist exhibition – Pettigrew Luxury Furnishings (Dallas, Texas) September 21-October 5, 2013
"Emerging Artist of Significance" in Telluride, Colorado (juried three-person show) (2001)
"Off the Wall" exhibit – The Gallery at Oldfield Davis (2009)
Juried selection Louisiana Watercolor Society New Orleans Group Exhibition (2012)
Juried selection Southwestern Watercolor Society Annual Exhibits (2011 ,2012, 2013, 2014,2015 ). Signature status 2017
Juried selection Northestern Watercolor Society 2013
Selected artist "Art for the Bridge" The Women's Museum, Dallas, Texas (2008)
Art+Advocacy selected artist (2010 & 2011, 2017 )
D "Art Slam" at the FIG. (Dallas) (2009)
Turtle Creek Chorale Dallas Artist Benefit (The Gallery at Oldfield Davis) (2007)
American Airlines Center CityArtCal Exhibit (2012)
Terri Provencal Curated Show (12 artists) (2011)
Content copyright by Anne Beletic.