Annebeleticart
Anne Turner Beletic
Watercolor,large abstracts,faces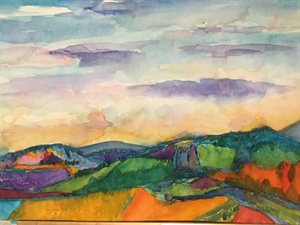 Driving there in my dreams
21"H x 26"W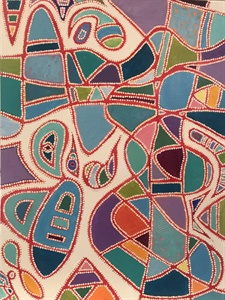 Beads with pink
72"H x 42"W x 1"D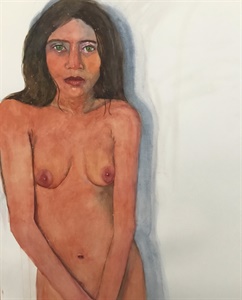 Scared
Original large scale watercolor on paper
18"H x 50"W x .01"D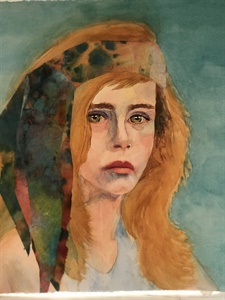 Hurt
Original watercolor on paper
32"H x 32"W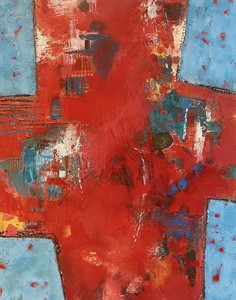 Primitive cross Sante fe sky
Original acrylic on canvas
30"H x 24"W x 1"D
About the artist
Original contemporary modern figurative and abstract color- saturated fine art ; imaginary portraits, landscapes and abstract paintings. Local Dallas artist.
About the Artist:
About the artist:
I began painting as a distraction while waiting to adopt my daughter from Shanghai and missed my first exhibition because I was in China getting her .
She won't let me say it but I am a color whore, in love with color and how it makes me feel.
As my work has evolved, I continue to be amazed at what the interplay of color, water, paper, wax, (and of course imagination) create. I am moved when someone looks at one of my girls and sees them staring back or purchases one and uses them as their social media "face". I am amused when clients who love my large scale abstracts don't understand the ones who only love the girls.
I have been selected to over 30 group jury curated exhibitions, Signature member Southwest Watercolor Society, Winner Artworks with 32 painting solo exhibit at American Airlines Corporate headquarters, 3 other solo shows in corporate spaces ,
publication in "Splash" Best of Watercolor 2018, best in show Society of Watercolor Artists, and a probate fight between heirs over 2 of my paintings.
I am grateful the universe continues to inspire and tell me to keep painting.
I can be contacted directly at 214-914-5408, artistannebeletic@gmail.com and annebeleticart.com.
Group Exhibitions and Juried Competitions
2020 Juried Selection "Dwell With Dignity"
2017 Juried Selection Southwestern Watercolor Society
Signature Member Southwestern Watercolor Society
"Best of Show" SWA (2014)
Three-Artist Exhibition – Pettigrew Luxury Furnishings (Dallas, Texas) September 21-October 5, 2013
"Emerging Artist of Significance" in Telluride, Colorado (Juried Three-Person Show) (2001)
"Off the Wall" Exhibit – The Gallery at Oldfield Davis (2009)
Juried Selection Louisiana Watercolor Society New Orleans Group Exhibition (2012)
Juried Selection Southwestern Watercolor Society Annual Exhibits (2011, 2012, and 2013)
Juried Selection Northwestern Watercolor Society 2013
Selected Artist "Art for the Bridge" The Women's Museum, Dallas, Texas (2008)
Art + Advocacy Selected Artist (2010 and 2011)
D "Art Slam" at the FIG (Dallas) (2009)
Turtle Creek Chorale Dallas Artist Benefit (The Gallery at Oldfield Davis) (2007)
American Airlines Center CityArtCal Exhibit (2012)
Terri Provencal Curated Show (12 Artists) (2011)
Solo Exhibits, Books and Press
Jury Selected for Publication in "The Best of Watercolor, Splash 2018" Rubin Wolf editor, North Light Books publisher
Selected Solo Artist Abi-Ferrin January-March 2017
American Airlines DFW Corporate Headquarters Solo Exhibit of 37 Paintings (2008)
State Fair of Texas "The Home of Tomorrow" (2011)
Featured Artist in American Airlines Magazine, "American Way" (2008)
Telluride Daily Planet (2001)
"The Summer Show and Critic's Choice" Art Review for the Dallas Center for Contemporary Art (2005) http://www.christadiepenbrock.com/membersDCCA.html
Group Exhibitions and Juried Competitions
2 solo shows at Abi Ferrin's in the West Village 2017
Dwell with Dignity selected artist 2019,2020,2021
2015 Western Federation of Watercolor Societies juried exhibit
Three-artist exhibition – Pettigrew Luxury Furnishings (Dallas, Texas) September 21-October 5, 2013
"Emerging Artist of Significance" in Telluride, Colorado (juried three-person show) (2001)
"Off the Wall" exhibit – The Gallery at Oldfield Davis (2009)
Juried selection Louisiana Watercolor Society New Orleans Group Exhibition (2012)
Juried selection Southwestern Watercolor Society Annual Exhibits (2011 ,2012, 2013, 2014,2015 ). Signature status 2017
Juried selection Northestern Watercolor Society 2013
Selected artist "Art for the Bridge" The Women's Museum, Dallas, Texas (2008)
Art+Advocacy selected artist (2010 & 2011, 2017 )
D "Art Slam" at the FIG. (Dallas) (2009)
Turtle Creek Chorale Dallas Artist Benefit (The Gallery at Oldfield Davis) (2007)
American Airlines Center CityArtCal Exhibit (2012)
Terri Provencal Curated Show (12 artists) (2011)
Galleries
| | |
| --- | --- |
| | Your computer |
| Saatchi art | Your computer |