LANDSCAPE EXPRESSIONIST
JERRI BRACKETT
abstract oil paintings
private studio
Pueblo, CO
private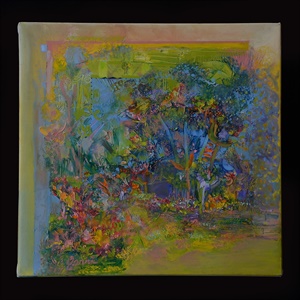 "GARDEN1120"
oil on canvas on board
January 2019
25.50"H x 26.50"W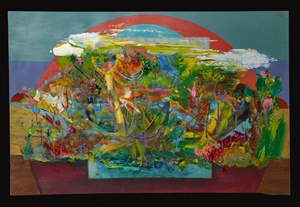 "CACTUS DANCE"
16"H x 24"W
"TELLURIDE"
oil on canvas glued to hardboard
22.25"H x 19.50"W
ARTIST'S STATEMENT
I moved October 2018 to Raton, New Mexico from the great city of Pueblo, Colorado. (born in Denver, educated in Wheat Ridge, CO schools). My house was a big fix-up & took all my money for repairs but I love the topographical beauty of Raton with mountains/hills on three sides! Still cold winters like my entire life in Colorado, but I'm finally in New Mexico ( a dream since high school) and I doubled my studio space! And my new state is a blue state!!! YES! A new woman Governor who's a DEMOCRAT! We have Colorado former Senator Mark Udall's cousin here as a Senator and I LOVE living in a BLUE STATE! (never, ever would I move to a red conservative state!) So, I'm painting every night again and loving every minute of the sessions. . . . .I've posted my two newest paintings that I entered in the March 2019 New Mexico Women Artists at the OLD PASS ART GALLERY in Raton. I'm always interested in honest art galleries in New Mexico whereas I am NOT into social medias for self promotion... too reclusive...
Thank you for visiting my website.
POLITICS AND MUSIC
I'm a very liberal news junkie (PBS, NPR, HuffPost, LOT'S of MSNBC and Thom Hartman.com. I'm looking forward to every single election for the rest of my life. I believe in Americans for the Separation of Church and State (www.au.org) and enjoy their online newsletters + their publication Church & State + I subscribe to Union of Concerned Scientists (ucs@ucsusa.org) AND Center For Inquiry (centerforinquiry.net). Since I support science, reason and secular values, I believe in their campaign for vaccinations of children (www.safeandsecular.org) and I donate to Planned Parenthood and Population Connection (www.popconnect.org).
I subscribe to Hearts of Space music (hos.com) because it can take me anywhere in the world with music depending on my mood.... just love it. . . . can't paint without it (it's that good).
thanks for visiting my website....
Galleries
145 S. 1st Street, RATON, NM 87740

Just joined as a new member. . .

always my home studio wherever I live
Content copyright by Jerri Brackett.