LANDSCAPE EXPRESSIONIST
JERRI BRACKETT
abstract oil paintings
private home studio
BELEN, NM
private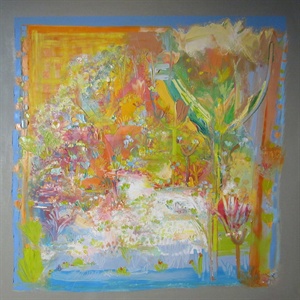 "GARDEN FLARE"
30"H x 30"W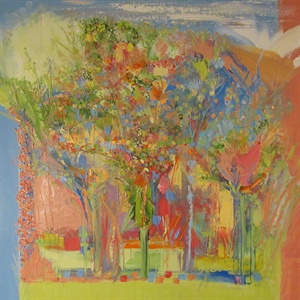 "FLOWER FOREST"
24"H x 24"W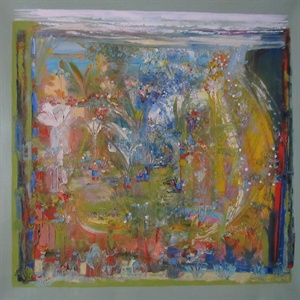 "CHROMATIC FUN"
30"H x 30"W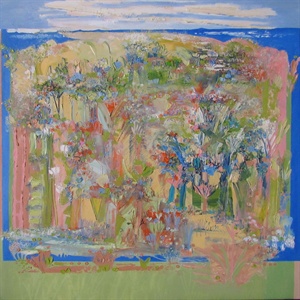 "DOWN IN THE VALLEY"
28"H x 28"W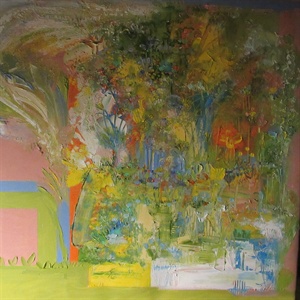 ARTISTS STATEMENT
Please CLICK "SLIDESHOW"...to see my paintings.
I have lived alongside the strength and beauty of the ROCKY MOUNTAIN RANGE my entire life (born in Denver). I can now see the southern tip of the range of the Sandia-Manzano Mountains only now the mountain range is to my east, rather than to the west.... a tad warmer in winter, but still northern hemisphere cold winters (my creative psyche was born in the tropics and hates cold weather). I'm very satisfied with my all-night-long painting sessions in my larger home studio here in BELEN, NEW MEXICO. . Previously, I've exhibited in 22 juried group art shows in Colorado, 3 in Raton, New Mexico, 4 solo 'one woman' exhibitions, and I was in an Art Center in Pueblo, Colorado for 16 months before I moved to New Mexico in 2018 PLUS numerous online art shows.
I've been admitting to being an anti-social RECLUSE for 25 to 30 years. . .
I AM INTERESTED IN AN HONEST ART AGENT OR GALLERY . . .
so I may only paint and AVOID the business of art... contrary to today's commercial demands for social networking life...I'm NOT a "social networker" . . .
I am pleased to announce I've been accepted as a new member and joined NMC-NMWA, New Mexico State Committee National Museum of Women In The Arts as of May 8, 2020 (NEW MEXICO WOMEN IN THE ARTS)
GO TO: www.newmexicowomeninthearts.org
scroll down to Artist Registry and click VISIT THE ARTISTS PAGES (alphabetical). I'm proud to be included with other New Mexico women artists.
ALSO, I just joined BELEN ART LEAGUE in BELEN, New Mexico, 509 Becker Street, 87002. I have three paintings available there.
Everyone is fortunate enough to be able to order art supplies ONLINE with DICK BLICK art supplies (DickBlick.com...1-800-933-2542 or 1-800-723-2787)... FAMILY-OWNED SINCE 1911.....delivered to your door. . .
PS I can not afford to pay those stupid ONLINE REPUTATION PROTECTOR services, so if you read online that I have a nasty criminal record or I'm a drug addict, they are lies and I can sue them for slander.
Thank you for visiting my website.
MUSIC
(no more political opinions from this progressive liberal Democrat. . . )
I listen to Hearts of Space music (hos.com) when I'm painting because it can take me anywhere in the world with music depending on my mood.... just love it. . . . can't paint without it (it's that good). I discovered Hearts of Space music in 1983 and have been 'blown away' with their most awesome musical programs ever since. They just updated their fantastic website and it's amazing.
KUNM RADIO (89.9 FM) has some fantastic NEW music broadcasting LIVE from the University of New Mexico in Albuquerque, New Mexico ...AND
also, here in Belen, New Mexico we have our own commercial-free OLDIES radio station: The EAGLE at 98.7 FM! (50's - 70's oldies)
thanks for visiting my website....
Galleries
www.newmexicowomeninthearts.org
509 Becker Ave, BELEN, NM

on consignment . . .

HOME STUDIO IN BELEN, NEW MEXICO
Content copyright by Jerri Brackett.