LANDSCAPE EXPRESSIONIST
JERRI BRACKETT
abstract oil paintings
private studio
Pueblo, CO
private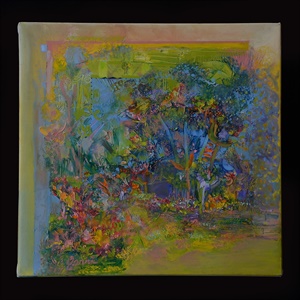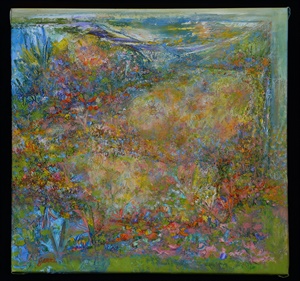 "MEADOW"
24"H x 24"W x 1"D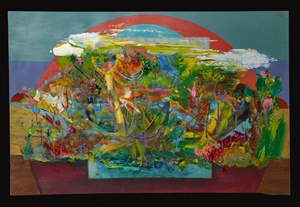 "CACTUS DANCE"
16"H x 24"W
"TELLURIDE"
oil on canvas glued to hardboard
22.25"H x 19.50"W
ARTIST'S STATEMENT
Either because no one likes my paintings OR because I do NOT self-promote myself with any social medias, the only ones who email me are online art galleries around the world (thank you for that). Nonetheless, I'm announcing that it is for this reason that I am moving October 2018 to Raton, New Mexico so I will finally be represented by galleries interested in my art!!! Also, I have temporarily lost three gmail addresses so it is currently jerribrackett@gmail.com for contact.
Thank you for visiting my website!
POLITICS AND MUSIC
I'm a very liberal news junkie (PBS, NPR, HuffPost, LOT'S of MSNBC and Thom Hartman.com. I'm looking forward to every single election for the rest of my life. I would also take a knee at any NFL football game and my next pair of shoes will be Nike's. I believe in Americans for the Separation of Church and State (www.au.org) and enjoy their online newsletters + their publication Church & State + I subscribe to Union of Concerned Scientists (ucs@ucsusa.org) AND Center For Inquiry (centerforinquiry.net). Since I support Science, Reason, Secular Values, I believe in their campaign for vaccinations of children (www.safeandsecular.org). I wish I had money to donate to Planned Parenthood and Population Connection (www.popconnect.org). I'm looking forward to Michael Moore's new documentary movie 'Fahrenheit 11/9' starting September 21, 2018 and I will purchase the DVD when it's available.
I subscribe to Hearts of Space music (hos.com) because it can take me anywhere in the world with music depending on my mood.... just love it. . . . can't paint without it (it's that good).
thanks for visiting my website....
Galleries
| | |
| --- | --- |
| | always my home studio wherever I live! |
Content copyright by Jerri Brackett.