LANDSCAPE EXPRESSIONIST
JERRI BRACKETT
abstract oil paintings
private studio
Pueblo, CO
private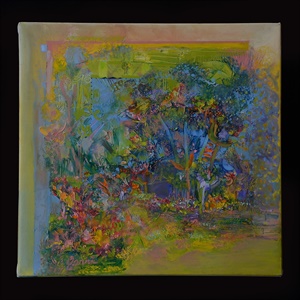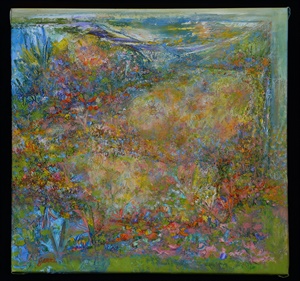 "MEADOW"
24"H x 24"W x 1"D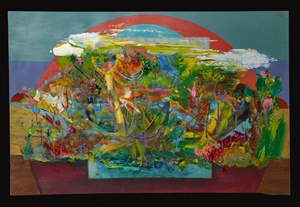 "CACTUS DANCE"
16"H x 24"W
"TELLURIDE"
oil on canvas glued to hardboard
22.25"H x 19.50"W
ARTIST'S STATEMENT
My childhood memories of the massive flowerbeds in Denver's public SUNKEN GARDENS gives me inspiration to paint with excessive exuberance. My private group art lessons' instructor in the 70's, encouraged us to paint "pattern through space" and I've taught myself to allow it to happen. I've learned that my creative psyche has a mind of her own and that no matter how many times I try to control her, she continues to paint with excessive pattern and color. Each painting begins with the goal of being non-objective but eventually, landscape elements appear and it becomes another land-escape. I think I've always been a Landscape Expressionist. I'm still not much of a social butterfly and that's why I'm not into social medias. I am a recluse, sorry about that. .
I moved from Wheat Ridge, Colorado in August 2014 TO Pueblo, Colorado and I paint full time in my home studio. . .
****************************************************************************************
I tried an online gallery/print website but it wasn't satisfactory to me . . . oh well, I'm always ready for an honest gallery out there . . . online or a brick and mortar gallery.
****************************************************************************************
I've been in ten juried online art show exhibitions with BauhausPrairieArtGallery.com (see my resume on the other portfolio under the"ABOUT " choice). I recommend entering this website's (usually monthly) online art gallery exhibitions for all artists . . . the webmaster/owner is Caryl Morgan in Oklahoma and she creates amazing watercolor paintings of vintage NEON SIGNS.
****************************************************************************************
If you need a large or small business loan (like my annual art supply loan), I recommend ACCION of New Mexico. They serve New Mexico, Colorado, Arizona, Nevada and Texas at accionnm.org or at their nationwide office at us.accion.org. at 1-800-508-7624. I just received my fifth art supply loan from ACCION and this time I increased the loan to include a hi-def camera + several large tubes of oil paint and a large roll of canvas from DickBlickArt.com. So cool . . . thank you again, ACCION.
Thank you for visiting my website . . .
POLITICS AND MUSIC
Daytime, I satisfy my progressive, liberal intelligence reading HuffPost.com and listening to NPR/CPR radio (1230 AM, Pueblo) and online with ThomHartman.com. I watch PBS Newshour (channel 8 TV Pueblo) and especially lot's of MSNBC TV. What America needs is a restoration of LIBERAL TALK RADIO STATIONS similar to the great day's when we had Thom Hartman's talk shows on public TALK RADIO and then Air America Radio founded by the still great Al Franken. (Warren Buffett, where are you with $ to invest?) There are too many people missing the truth and swayed by fabricated lies. All of the above mentioned news outlets are truthful entities. I'm like the billions of other citizens looking forward to the 2018 elections.
While I paint all night long, I listen to music from HEARTS OF SPACE.com on their website www.hos.com. Their extensive and unusual programs of "world music" gets me going and keeps me traveling while I'm painting which is a studio necessity. ( I can not paint without Hearts of Space music). (of course I get my clasic rock on with MY MIX on YouTubeRed sometimes . . . )
thanks for visiting my website....
Content copyright by Jerri Brackett.