Mill Village Folk Art
Artist - Judy Aiken Young
Preserving Our Textile Heritage Thru Art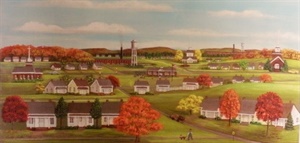 Fall In The Village
12"H x 24"W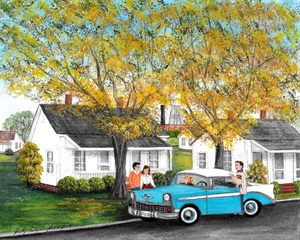 "Going Cruisin"
Nothing was more fun than getting together with
friends and cruising the local burger joints!
8"H x 10"W
$12.00 Signed & numbered print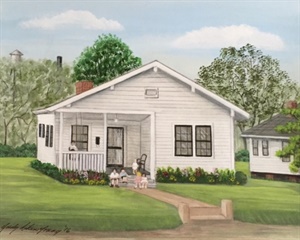 On The Porch At Park Place
This is a mill village family making memories on a Sunday afternoon. The actual photo used for inspiration is the Padgett family from the Park Place Community, Greenville, SC. The nearby cotton mills were Poe Mill and American Spinning.
8"H x 10"W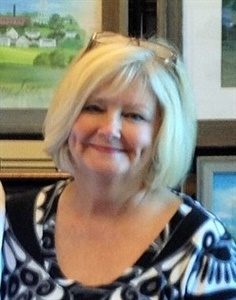 Judy Aiken Young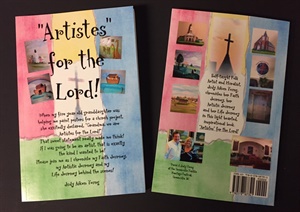 "Artistes" for the Lord!
This book features the works of Artist Judy Aiken Young as she chronicles her Faith Journey, her Artistic Journey and her Life Journey in this lighthearted, inspirational book!
8.5"H x 5.5"W x .45"D
About
As a self taught artist, I have spent many years as a working artist in different genres and media. I have traveled our beautiful state of South Carolina painting hundreds of murals in homes, schools, churches, hospitals and other businesses. As of late I have returned to the work I started back in the early 90's and that is this featured folk art.
I feel truly blessed to have grown up on a cotton mill village in the 1950s and 60's when the textile industry was at its peak. Thanks to our hardworking elders who worked in the textile mills, my generation was able to have a better life. Sadly most of those elders and textile mills have passed on. In the 1990's I was inspired to use my art as a tribute and to illustrate the stories of the cotton mill people and neighborhoods. The neighborhoods may have been in different cities and states, but the stories are similar. The inspiration that I had way back when still burns deeply within me this day!
I appreciate you visiting my website! I hope you will visit often as I plan to add other items with different themes as inspiration leads me and time allows!
Warmest regards,
Judy
a.k.a. "The Mill Village Artist"
Home
I am currently in the process of moving. Please bear with me while I get established in my new location.
Events
November 17, 2019

Local Author Showcase

Captain Kimberly Hampton Memorial Library, Easley SC

October 10, 2019

Author Visit at the Village Branch Library

Pickens, SC

August 5 - October 7, 2019

Pickens County Museum of Art and History

Pickens, SC

October 5, 2019

13th Annual Greenville Textile Heritage Festival

Greenville, SC

May 4, 2019

17th Annual Strawberry Festival

Slater, SC

April 19 - May 4, 2019

The Upstate Quilt Trail

The Holly Springs Center, Pickens SC

April 6, 2019

GTHS Sports Hall of Fame

Piedmont SC

November 1 - December 31, 2018

Art in the Library

Hughes Main Library, 25 Heritage Green, Greenville, SC

August 25, 2018

12th Greenville Textile Heritage Festival

Greenville, SC

Celebrating God, Family & Country

August 23, 2018

Saxapahaw Museum

Saxapahaw, NC

On permanent display

October 1, 2017

Saxapahaw Museum

Saxapahaw, NC

Mill Village Folk Art is currently on display at the Saxapahaw Museum

August 26, 2017

11th Greenville Textile Heritage Festival

Hughes Main Libray, Greenville, SC

Theme: Home Life on the Mill Village - Celebrating Life on the Mill Hill

September 24, 2016

Tenth Annual Greenville Textile Heritage Festival

Hughes Main Library, Greenville, SC

Theme - School Days, School Days, Dear Old Golden Rule Days

September 26, 2015

Hughes Downtown Library, 25 Heritage Green Pl, Greenville, SC 29601

Theme: Fabric of Our Faith Woven At The Mill Hill Church

November 4, 2014 - April 21, 2015

Palmetto Medical Research Assoc. LLC

201 South B Street, Easley, SC 29640

October 4 - 5, 2014

Greenville, SC
Galleries
Saxapahaw Museum

Saxapahaw, NC

On permanent display

Art in the Library, Hughes Main Library

Greenville, SC

Paintings on display through Dec. 31, 2018

Pickens County Museum of Art & History

Pickens SC

On exhibit from August 5 -October 7, 2019